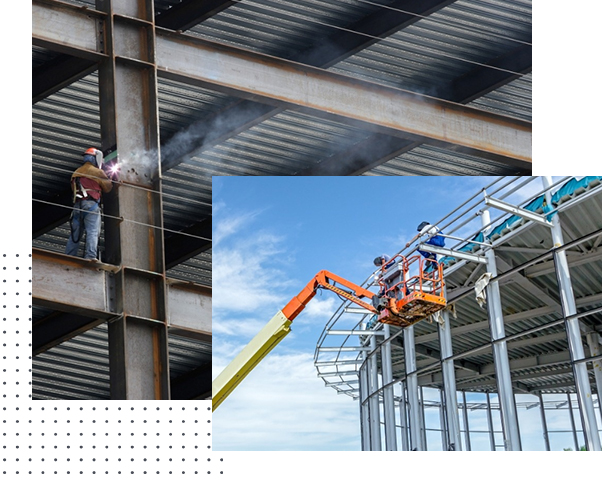 ABOUT US
Fujian Guosheng Steel Structure Co., Ltd.

Fujian Guosheng Steel Company located in the famous hometown lf overseas
Chinese-Jingyang Economic Development Zone.Fuqing in Fujian province with a
registered capital lf 33 million yuan,covering an area lf 30 aceres,with15'000 squaer meters plant.It mainly engages in engineering design,production,installation
services of steel structure,grid structure,steel warehouse plates,aluminum alloy
doors and windows;Also it produces and operates various types of BH type of steel box column,color plate,purlin,sandwich panel,road divide,bridge parapet and metal containers and so on;Moreover,it manages sales...
Fujian Guosheng Steel Structure Co., Ltd. was established on January 07, 2005.
Enterprise registered capital of 33 million yuan
Our company has a plant area of 15,000 square meters
01
Steel structure work is mainly made up of steels, is one of the main building structure types. Steel structure is one of the relatively common structure in the modern building engineering.

Steel structure engineering
02
Steel silo is widely used in storing food, forage, chemical product, building materials and concrete, the single warehouse capacity could reach million tons. Our company main y produce Spiral bit steel silo.
03
Company is engaged in producing design and manufacturing installation about steel pylons, Radio and teletision tower, Microwave communication tower, medium-wave tower, Telecom navigation...

Iron tower engineering
04
The company produces a various of color steel plate ,blockboard and decking system,which not only can't damage the surface process of steel plate,but also the appearance is flat and level,Corrugated uniform ,high-usage, more strength...

Colortul armar plate/ Purline seria

2017 National "Quality Month" Event



联系我们
hq环球体育
地址:福建省福清镜洋工业区